B. Hefner Company Guitar Body Review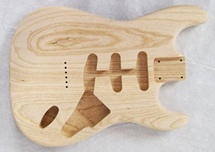 I purchased my second guitar body from the B.Hefner Company, and it's time to give them a shout out. The first body I purchased was an ash, single coil, Stratocaster copy. When it arrived I was thrilled at the quality of construction, but I was more thrilled by the weight, at 2.9 lbs this is the lightest body I've ever owned. I believe B. Hefner made a mistake, but who am I to question.
The second body, a fixed bridge strat displayed here, is of equally high quality, and will be the body in my Guitar Giveaway . What separates the B.Hefner Company from the rest, is that they supply guitar parts of surprising quality, at an affordable price. They are certainly not as well known as Warmoth, and are certainly not as expensive, but the two bodies I've received are top notch. Though I can't vouch for their other products, they do make necks, have a paint service, supply parts, and other bodies, for a wide range of guitar models.
The B.Hefner Company has been in business for nearly three decades. They know what they're doing, and aren't going anywhere. If you've got a guitar project in mind, check them out first. You'll be amazed at the quality, and affordability. Thanks for reading, J.B.
---
Return from Guitar Body to Electric Guitar info home