The Strat Body for the Guitar Giveaway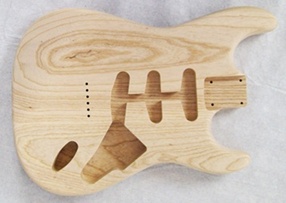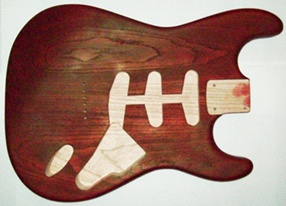 I've begun the most painstaking process in the Guitar Giveaway project, which is finishing the Strat body. The first step is the staining of the body, which I've chosen to do in a cherry red. I purchased the stain from Stewart MacDonald, it's color tone brand, and it's some potent stuff. I found out the hard way that latex gloves must be worn, after I walked around with red hands for a week.
The after picture shown here is after three heavy coats of stain. This guitar body is made of ash, and it took some real coaxing to get the stain into every exposed pore in the wood. Plus I wanted to get a deep, deep wine red. I can only tell you the picture doesn't do the way the grain shows justice. After what I'm sure will be a full day of pore filling, with some filler from Rockler, the body will be ready for 12 coats of lacquer. Check back often, and thanks for reading, J.B.
---
---
Return from Strat Body to Electric Guitar Info home