Note for note guitar lessons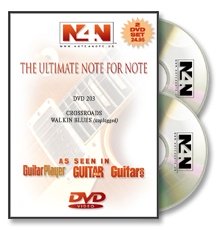 I stumbled on the note for note website looking for a detailed DVD to play the Stevie Ray Vaughan song Texas Flood. One of my problems is that I'm a loon for detail, and would like to play it as close to the way Stevie played it as possible. Knowing full well of course, that Stevie played this song about a billion different ways.
The name describes these DVD lessons perfectly. A teacher takes you through a song, and literally plays every note. He'll pluck along for awhile, describing where the note is, and how to play it. At varying intervals the teacher plays the riff together, and plays the whole song a few times. I found the lesson a little tedious at times, because I have a grasp of Texas flood already. But for a song I've never tried to play before, this would be the ticket.
Note for note allows you to down load the DVD or purchase a hard copy. I made the mistake of thinking the down loadable DVD was something you could actually turn into a disk, it's not. You actually get a password to log into their site. It's not bad, but I play all my lesson DVDs on a portable DVD player, so it wasn't for me. I also found the online screen a little small, however the online version is cheaper, so that might factor in for you. I paid $24.95 plus $6.00 shipping and handling, for a two DVD set that includes Texas Flood, Cold Shot, and Love Struck Baby. I find the price a little on the steep side, but the lessons are quality, and if you can't find somebody playing it on You Tube it's not a bad option. Thanks for reading, JB
---
---
Return from Note for note to Electric Guitar Info home