The Nobels ODRS Overdrive Special Pedal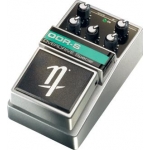 Personally I don't use many effects pedals, but the Nobels ODRS Overdrive Special was a pleasant find. I play a lot of blues rock and am usually plugged directly into the amp. When I want some grit or gain I use the Nobels pedal.
First and foremost it's quiet, there is no noise, unlike the Boss SD-1, I can't tell it's in line. Second, it's the cleanest, most disectable gain and grit I've heard to date. I realize this doesn't make much sense, clean and dirt, but it's the only way I know how to describe it.
The pedal takes standard 9 volt power, has low, mid, and high eq, and drive and level controls. These are no longer made so they are a little hard to find, but if you watch ebay you'll find one.
---
---
Return from The Nobels ODRS Pedal to Electric Guitar Info Home