Line 6 Spider Valve 112 review
Line 6 Spider valve 112
Description:
The Line 6 spider valve 112 is a 40 watt, modeling guitar amplifier. The amp consists of a digital preamp stage, with over 200 factory presets, and the ability to program 36 user presets. The amp has one Celestion vintage 30 speaker that is powered by an all tube power section consisting of two 6L6 power tubes, and two 12AX7 preamp tubes. List price for the 112 is around $970.00, but a quick ebay check leads me to believe you can have a brand new one, to your door, for $800.00, much less for a used unit
Features:
The main feature of the Line 6 Spider Valve is the 12 amp models. You can adjust from clean, through Blues and Crunch, up to a mind numbing setting of insane. The amp also has a drive level adjustment, Bass, middle, and treble controls, channel volume for the digital preamp, a chorus, phaser, tremolo knob, a delay, tape echo, sweep echo, knob, and a reverb control. The power amp section has a master volume and presence control, as well as a standby switch. Also included is a four-way button, with digital display, to scroll through the presets, and an on board tuner.
Construction:
The amp is put together like a tank. The cabinet is sturdily constructed with a tough, black alligator skin like vinyl covering. There are corner protectors on the bottom corners, as well as rubber feet for vibration isolation, and to protect your floors.

Functions/Ease of use:
The owner's manual for this thing is awful. Not only does it not tell you where, and what the presets are, it's so vague that you might as well just toss the thing. One amazingly annoying feature is that the channel volume is part of the presets. Meaning that when you change from one preset to the next, you are often greeted with a volume level that will blow your eardrums out. Selecting presets is clumsy and confusing, I'm thinking a bigger display with more information might be in order. Admittedly, I got used to the thing, and it's quirks, after a few weeks. Although occasionally, in a lapse of forgetfulness, I get a crazy volume blast now and again.
There is no question this amp is versatile. Forget the artist presets, just the range of tone you can get from this thing by playing around is mind boggling. The clean channel is super clean, and they're not kidding with the insane channel. You can pluck a string, go for a walk, come back and the things still ringing. The reverb is satisfactory, as is the chorus, and delay.
Overall the amp sounds good, and if not for the fact that I've got a Fender blues deluxe sitting right next to it, it would be hard to find any shortcomings. The tube amp was designed by Reinhold Bogner, I've never heard of him, but I guess he makes good tube amps. To me the amp is not as full, nor as warm or alive as the Fender. But I'm talking in small degrees, and really on the cleaner side of things.
Summary:
The Line 6 Spider Valve is a good amp for what you're getting. If you play a wide range of stuff, especially hard rock/metal you'll love this thing, it really cranks. For the musician who loves to experiment with all types of crazy sounds, this thing will keep you amused for years. It's hard to combine digital effects, with a tube amp, and please everybody. As Eddie Van Halen said " they need to get those ones, and zeros, a little closer together" He's probably right, but for the record I'm keeping the thing. It's just got too much upside for wild experimentation.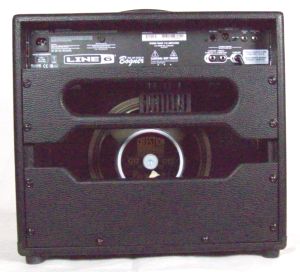 ---
---
Return from Line 6 spider valve review to Electric Guitar Info home