65" Fender Deluxe Reverb Review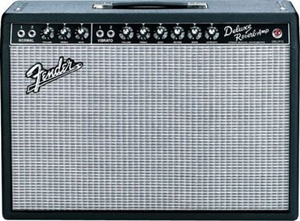 The '65 Fender Deluxe Reverb amp is so sweet I don't think I'm ever leaving the house. I thought my Fender Blues Deluxe sounded good until I plugged into this thing. In a word, this amp is "incredible". In my quest to be a better player, and find the right tone, I keep stumbling on these gems.
I Purchased this amp used for $700.00 from a guy with black teeth. I sold a few guitars in order to afford it, and man was it worth every penny. The sound is sharp, quick, bright, warm, just, as I said before, incredible. And at 22 watts, which doesn't sound like much, this cranks in my little music room.
I've been reading up on this and apparently this amp has been used to record more stuff than anything on the planet. I think I understand why, grab one of these, you'll be amazed.
The Fender Deluxe Reverb features include a pair of 6V6 Groove Tube output tubes, 1 x 5AR4 rectifier tube, 4 x 12AX7 preamp tubes, 2 x 12AT7 preamp tubes, 1 x 12 in. 8-ohm Jensen C-12K speaker, dual channels (normal and vibrato), tube-driven Fender reverb, tube vibrato, 2-button footswitch for reverb and vibrato on-off, black textured vinyl covering and silver grille cloth.
Features:Tube Driven Spring Reverb
Tube Vibrato
2-Button footswitch
Baltic Birch Plywood CabinetTechnical InfoModel Name: '65 Deluxe Reverb
Model Number: 021-7400-000 (120V, 60Hz) USA
Series: Vintage Reissue Series
Type: All Tube Amp
Output: 22 watts into 8 ohms
Ohms: 8 ohms
Speakers: 1-12 in. Jensen C-12K, 8 ohm Speaker with Ceramic Magnet
Channels: Dual Channels (Normal and Vibrato)
Controls:Normal Channel: Volume, Treble, Bass,Vibrato Channel: Volume, Treble, Bass, Reverb, Vibrato: Speed, Intensity
Covering: Black Textured Vinyl with Silver Grille Cloth
Weight: 42 lbs. (19.05 kg)
Dimensions:Height: 17.5 in. (44.45 cm)Width: 24.5 in. (62.23 cm)Depth: 9.5 in. (24.13 cm)
Tube Complement: 4 X 12AX7, 2 X 12AT7, 2 X 6V6, 1 X 5AR4 Rectifier
Accessories: 2-Button Footswitch for Reverb and Vibrato On/Off
Introduced: 1993
---
Return from Fender Deluxe Reverb to Electric Guitar Info Home