Fender Blues Deluxe Reissue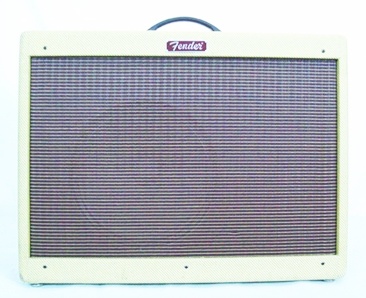 I purchased my Fender Blues Deluxe about three months ago. I'd been using a Line 6 Spider valve before that, and decided I'd like to try a true tube amp with no digital effects. I went to crackbay first but shipping was crazy, so I tried Craigslist. Low and behold someone had a one year old amp, hardly used for $450.00, two towns over. I had $350.00, so I called and asked if he'd take it, without hesitation, he agreed, and I had it home in an hour and a half. These list new for over $1,100.00, and I've seen them at the larger online stores for $899.00 or so. I guess $350.00 wasn't such a bad deal.
My first impression was that this is a well built amp, the cabinet is solid, and I love the tweed covering.

The amp features two channels with Presence, Reverb, Master, Middle, Bass, Treble, Drive select switch, Drive, Volume, Bright, and Standby controls. It has two 6L6 power tubes and three 12AX7 preamp tubes. There are two inputs, one with lower sensitivity for active instruments, or cleaner response, and a plug for everything else. Power output is 40 watts, through a fender gold label speaker. In my confined dungeon of a music room, it's loud enough to make your ears bleed at less than full volume. Power with this thing is not a problem.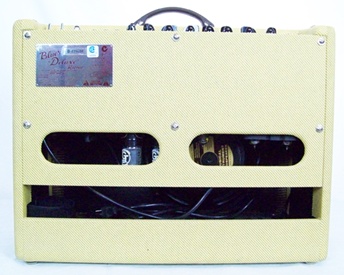 If you want more specs they are everywhere, start at the Fender web site. For sound, this amp compared to my line 6 rocks. The Line 6 is a fine amp with a huge range of effects not found on this amp. But when comparing raw tone the Fender Blues Deluxe is warmer, brighter, and richer. Now keep in mind my music of choice is Texas blues/rock, so I'm into a clean sound, and this amp doesn't disappoint. With the supplied foot switch, I can opt in and out of reverb, and switch channels.
There are a few con's, the reverb leaves something to be desired, I have it set all the way up most of the time. The chrome control plate is a nice touch, but whatever fender used for the white lettering is garbage. I can scratch the lettering off with my fingernail. I haven't owned it long enough to comment on reliability, but what I'm reading suggests that it's pretty reliable.
On balance this is a great amp, and I use it exclusively now. With a few foot pedals, this amp can sound anyway you want it too. I plan on keeping this forever, however I did just bring home a Fender Deluxe Reverb Reissue yesterday, so things may change. I'd buy this amp again in a heartbeat, especially for the price I paid. If you have a chance to pick up a Fender Blues Deluxe, at a good price, don't hesitate. Thanks for reading J.B.
---
---
Return from Fender Blues Deluxe to Electric Guitar Info home