Epiphone Pickups: How to split these pups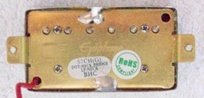 The Epiphone Pickups, on an Epiphone Les Paul Standard are two lead humbucker pickups. There is nothing wrong with a two lead humbucker until you'd like to do some modding. This tutorial is the same for almost any single tap humbucker, so if you have a different brand with two leads, the steps shown here will work.
The first thing to do once the pickup is out of the guitar, is to remove the back cover plate. You'll notice the back plate is usually soldered to the chrome housing. I used a dremel tool to cut the solder joint. A desoldering tool, or copper wick will work just as well also. I just didn't want to heat up the pickup, before working on it.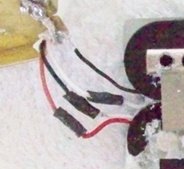 Once the solder joint is broken, the back cover must be removed. In the case of the Epiphone pickups, the humbucker has been potted in paraffin wax, which is pretty typical. once the back cover is off, I took the pickup out of the housing to work on them. Once the pickup was out of the housing, I dug through the wax, and found a white wire combining the two coils. This wire is represented in the picture, which shows the white wire cut, and attached to the white and black leads of the new humbucker cable.Now I used some 26 gauge four conductor wire that I already had laying around. There are no hard and fast rules on what wire to use, but multi-conductor wire is easier.
I used small pieces of heat shrink tubing as insulation. Once all the leads were connected I placed the humbucker back into the housing. Note that the six screws that show on the top of the pickup do not need to be removed. I then used a white candle and filled in where I had to remove wax.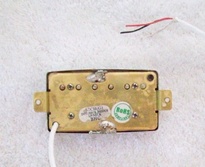 It's important to note which wire goes where. Write everything down, and include a diagram to make it clear what was soldered to what. With the new wiring carefully tucked into the chrome housing, and then waxed, I put the back cover back on. I made sure the cover was seated properly, and then resoldered the two joints, and wallah, an hour and a half later I had two split humbucker Epiphone pickups. Sure as heck beats buying two new pups. Good luck and thanks for reading, J.B.
---
Return from Epiphone Pickups to Electric Guitar Info home