The Epiphone Les Paul Standard Review

I purchased this Epiphone Les Paul Standard about a year ago. I was up late poking around on "Crackbay", and I stumbled on this auction. As an insomniac taking advantage of the unsavy ebayer is one of my favorite pastimes. Never end an auction at two o'clock in the morning by the way. At any rate I picked it up for $260.00 with free shipping. They are for sale at Musicians Friend from $429.00-$479.00, depending on color.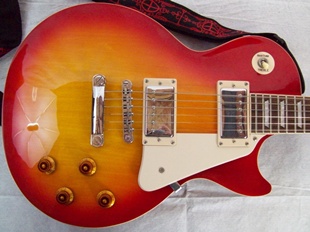 The Epiphone features two, alicno magnet humbucker pickups, a beautiful chrome bridge, and saddle set up, a mahogany neck with rosewood fretboard. The fretboard has twenty two frets, with beautiful trapezoidal inlays. The headstock has a truss rod cover, and grover tuners. There are individual tone and volume controls for each pickup.
The sound is hard for me to talk about because it's so subjective. I learned some AC/DC riffs, set the switch to lead, turned up the volume, and had at it. The tone is incredibly full and rich. The volume and tone controls are functional, and work well. The sustain you can get out of this guitar is incredible. I strung the guitar up with Ernie Ball RPS11 48's. The scale on this guitar is 24-3/4" so you don't need as much tension to achieve tune. This means you can use heavier strings that feel equal to a lighter string on a guitar with a longer scale. Hey to me the thing sounds great, you can get nice clean tones, up to earth shaking overdrive.

The action was set fine when I got the guitar. The neck is smooth, and fast. I am still in awe of the finish on this guitar. It's absolutely beautiful, everything fit wise is perfect, I almost hate to pick it up and play it for fear of a scratch or dent. Compared to a strat there is no comparison when talking about finish, the Epiphone Les Paul is a work of art.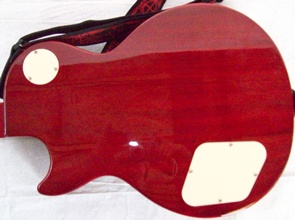 Overall this is a beautiful guitar, regardless of the money. Quite frankly I must be missing something. I went down to the local music shop and picked up a rear Gibson Les Paul Standard, and I really couldn't tell the difference. I mean a real Gibson, with a sunburst top, is $3,500.00. I asked the guy at the shop, and other than some memorized rhetoric, he didn't have a good answer. there doesn't seem to be a difference justifying a $1,000.00 increase, never mind three grand. The Epiphone Les Paul is a winner in my book.
---
---
Return from The Epiphone Les Paul Review to Electric Guitar Info home