The Fender American Deluxe Stratocaster Review

The Fender American Deluxe Stratocaster, Fat Strat, is jam packed with features. This strat is equipped with fender's S-1 switching system which gives this stratocaster ten pickup positions, compared to the usual five. The first five positions are regular strat, with the second position combining one coil of the humbucker in parallel with the middle pickup,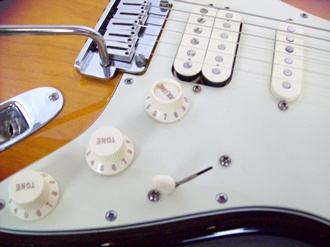 With the S-1 switch pushed in pickups are as follows, first through fifth position respectively. 1.Full bridge in series, 2.full bridge in series, in parallel with neck, 3.full bridge in series, in parallel with neck and middle pickups, which are in series, 4.Inside coil of bridge pickup in series with neck pickup, which is parallel to the middle pickup, 5.middle pickup in series with neck pickup.
The guitar is equipped with schaller locking tuners, and a Fender LSR roller nut. The bridge is a two point tremolo, with snap in tremolo arm. The neck is maple with a rosewood fingerboard. My favorite cosmetic feature is the abalone, mother of pearl looking inserts on the neck. Call me crazy but they do it for me. The Humbucker is a Fender DH-1, and the single coils are really Fender's SCN noisless pickups.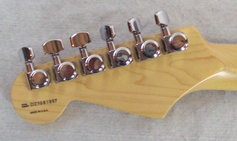 The finish on the American deluxe stratocaster is great, I noticed that the maple part of the neck has been slightly tinted, and has a nice gloss lacquer finish. The body is nice with a thick flawless gloss finish, on a three color sunburst color pattern. The neck is fast, and smooth with the fret wire ends ground nicely. Action was a bit high when I got it, but lowering was easy with the two point bridge. The tremolo is fantastic, you can dive an octave over and over again and never lose tune. In fact the thing stays in tune longer than any other guitar I own.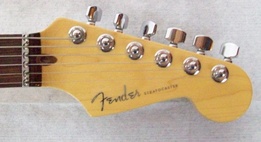 I've got mixed feelings on the sound. The humbucker is good, but it's not Les Paul good. I enjoy playing this guitar because it's just a more lively strat, so the purpose of the humbucker is a little lost on me. The S-1 switching does give you a few unique tones, but some are so close to one another that they're almost indistinguishable. I played three identical riffs through each position, just to make sure it wasn't me. I think the S-1 switching is a good idea, it's what to switch, and where to add a tone capacitor that could use a look. Don't get me wrong, this is a nice guitar, and is definitely a keeper, but if I had it to do over again I'd get an American Deluxe with three noiseless single coils. In fact I may just purchase one additional SCN, and a single coil pickguard. There will definitely be some wiring experiments going on under the hood, so stay posted.

I've seen this American deluxe stratocaster listed for $1,639.00 at a few different online music stores, although you can buy one much cheaper with a few miles on it. I purchased mine for $1,050.00., and I see deals all the time. This is one of the nicest strats I've seen. The neck is beautiful, the body the same, and the overall function of the guitar mechanically is great. Let's face it, swapping out a pickup is easy, the electronics are the easy part of any guitar. You don't pay three grand for a Gibson Les Paul for magic electronics, you're paying for incredible fit and finish. I don't know if I'd buy another American Deluxe Stratocaster, but that's me. I'll probably keep this one, and have some fun with it. Lots of opportunities for future electronics projects, thanks for reading JB.
---
---
Return from Fender American Deluxe Stratocaster to Electric Guitar Info home